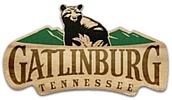 "Music, Mountains, and Moonshine"
Gatlinburg, Tennessee
July 13-19, 2014
Edgewater at the Aquarium Hotel
Gatlinburg, nestled in the beautiful Great Smoky Mountains of Tennessee, is one of the last tracts of unspoiled wildernesses in the eastern United States. Gatlinburg sits nearly surrounded by the Great Smoky Mountains National Park, making it the gateway to the Smokies. You will find quaint shops, unique arts and crafts galleries, a walkable downtown area including attractions and restaurants. Local trolleys are available not only for the downtown area, but also to the nearby Pigeon Forge attractions as well.
Our convention hotel is the Edgewater at the Aquarium, an eight story luxury high rise located in the heart of Gatlinburg on the banks of the Little Pigeon River, just one block from Ripley's Aquarium of the Smokies. The convention package includes 6 nights lodging, 5 dinners, 5 buffet breakfasts, Masses, dances, receptions and after-hours parties for the early bird rate (before April 1, 2014) of $795 double occupancy and $1107 for a single. Extra nights prior to the opening and after the convention are available at the convention rate. Rates will increase with each deadline and the final deadline is May 31, 2014.
At this year's convention, we are excited to have our first speaker from "The Dynamic Catholic Institute", Dr. Allen Hunt. He is a nationally known speaker and best-selling book author. His books include: "Confessions of a Mega-Church Pastor: How I Discovered the Hidden Treasures of The Catholic Church", "Everybody Needs to Forgive Somebody" and "Nine Words: A Bible Study to Help You Become the Best Version of Yourself". Dr. Hunt will be speaking on Sunday evening, the opening day of our convention.
Tours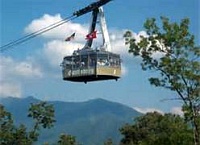 For those of you who wish to explore the area beyond Gatlinburg, we are offering tours for you to choose what interests you. There will be a "Tour of Gatlinburg and Back roads", a history of east Tennessee; "Tour of Arts and Crafts", featuring local artists and craftsmen; "Tour of the Upper Elevations of the Smokies"; and an all day "Tour of Cherokee, NC". For those of you interested in music and amusement, there will be an opportunity to visit Dollywood in nearby Pigeon Forge. Did you know that there are 13 shows in addition to the amusement park rides? So if you are into music and/or thrill rides, Dollywood is the place for you. Check out all the tours on the reservation form.
Transportation
Gatlinburg is accessible by car for most CACers, but for those of you flying in to join us, you will arrive at the McGhee-Tyson Airport in nearby Knoxville, Tennessee. If you do not rent a car, transportation on your own may be made by advance reservation through Rocky Top Tours with an airport shuttle. You may call toll free for reservation 1-877-315-8687 or email request to rockytoptours@bellsouth.net. The charge for 1 passenger is $75.00 each way, but, with multiple people the rate goes lower and the company will try to group passengers together for pick up based on their arrival times. When you call the company for reservations you will need to provide your name, date of arrival, airline name and flight number, arrival time and city the flight departs from, destination (city and hotel) and cell phone number. You may also want to provide departure information to schedule that as well.
Pre-Convention
Not to forget about the CACers interested in the pre-Convention. It will be held in Nashville, Tennessee from July 10-13, 2014, staying at The Inn at Opryland. For those interested in going to Nashville after Gatlinburg, the nights of July 19 & 20 are also available. The package includes lodging and breakfast each morning for the early bird (before 4/1/14) rate (per night) of $85 for a double and $100 for a single. A complimentary shuttle service is provided from the hotel to Gaylord Opryland as well as nearby attractions like the Grand Old Opry, General Jackson Paddlewheeler and Opry Mills Mall. There is a shuttle service from the hotel to the airport roundtrip for $40 and $30 one-way per person. Jim Stammerman is in charge of the pre-convention and if you would like information, you can contact him at 502-459-2506 or email address: jstammer64@aol.com.
Questions?
I hope you are as excited about this year's convention as we are in planning and providing you the opportunity to join with all of your CACI friends. If you have any questions you may contact us. So come join all of your old friends and new ones you haven't met yet in "Gatlinburg: Music, Mountains and Moonshine."
Reservations
Click here for reservation forms.