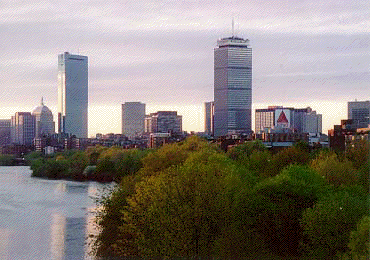 Catholic Alumni Club of Boston
A Social Organization of Single Professional Catholics
P.O BOX 101 Concord, MA 01742
---
What is CAC?
The Catholic Alumni Club of Boston (CAC) has been in existence for over forty years and is affiliated with the Catholic Alumni Clubs International (CACI). We are a volunteer organization of over 200 single adult Catholic professionals enjoying each other's company in a wide variety of social, religious and cultural settings.
Our purpose is to encourage friendship and camaraderie among people of similar backgrounds. Although CAC is not a matchmaking organization, many marriages do result from the wonderful friendships that start at CAC events.
---
Mission Statement
To enable members to join in fellowship and community by sharing their common faith, values, Christian ideals, and educational backgrounds with other single professionals. To provide a forum for members to participate in enriching and rewarding experiences such as religious and charitable activities, social gatherings, cultural programs, and sporting events at local, regional, and national levels. To maintain and expand our membership so the Club continues its vitality as a thriving organization.
---
Membership Requirements
Full Membership is offered to those men and women who are single and Catholic; free to marry in the Church; and have received a minimum of an Associate's Degree or attained Registered Nurse status or a Professional Certificate or License. Associate membership is offered to those who do not meet the above criteria.
---
Dues and Benefits
Dues are $40 per year, $75 for two years. International membership dues are $45 per year - payment accepted in U.S. funds.
Membership benefits include:
a subscription to our monthly newsletter, The Hub-Bub
discounts on CAC dances and other selected activities
a chance to develop your leadership skills in an all-volunteer organization
the opportunity to meet single, professional Catholics
---
Our Activities
CAC of Boston sponsors a wide range of activities for our members: social, cultural, religious and recreational. These activities are published each month in our newsletter, The Hub-Bub.
Some of our regular activities include:
Hiking
Club Promotion
Movie Nights
Game Nights and Recreational Activities
CAC of Boston - Boston Pops Christmas
Date: Sunday December 9, 2018 for a matinee performance.
Location: Boston, MA.
Seating is center, second balcony. We will go to dinner (optional) after the performance.
CAC of Boston - Christmas Banquet
Date: Sunday December 16. 2018 from 12 to 4 pm.
Location: Wayside Inn in Sudbury, MA.
Tickets are $25 for members, $50 for guests, Entree choices are boneless breast of chicken with cranberry walnut stuffing or filet of sole with shrimp and crabmeat stuffing and lobster sauce.
CAC of Boston - Christmas Dinner
Date: Tuesday December 25. 2018 at 3 pm.
Location: Colonial Inn in Concord, MA.
The Colonial Inn is an enduring landmark of gracious hospitality. The Inn was originally built in 1716. The Inn is offering a buffet with various carving stations of turkey, prime rib, swordfish, plus all the fixings. salads, side dishes, and desserts.
Cost: $60 and includes everything except alcohol, beverages and tip.
CAC of Boston - Travel
Date: Departs Saturday February 9,2019 for 1 week.
Location: Florida Gold Coast between Ft Lauderdale and Palm Beach.
A day trip to the Bahamas will be included, and an optional few days extension is being worked on.
CACI - Convention
Date: July 21 - 27, 2019
Location: Spokane, Washington.
We will be based at the Centennial Hotel, an award-winning, four-star facility with 401 rooms, indoor and outdoor pools, and on-site restaurant and bar, located on the bank of the Spokane River in the heart of the downtown area. We will tour the spectacular Grand Coulee dam, the site of the gold rush in northern Idaho, enjoy the natural beauty of the area and other sites.
---
Our Geographic Regions
CAC of Boston serves mainly eastern Massachusetts and the Greater Boston Area. We also serve three other regions: Rhode Island/SE Mass, Central Mass., and Southern NH/Merrimack Valley.
---
How to Join CAC of Boston
For more information about CAC or to obtain a membership packet, write to the following address:

Club Information Chairperson
Catholic Alumni Club of Boston
P.O. BOX 101 Concord, MA 01742
or send an e-mail message: To join, complete and print the online membership application and mail it to the above address.
---
What is CACI?
Catholic Alumni Clubs International (CACI) was formed in 1957 as an association of local Catholic Alumni Clubs. CACI is a non-profit organization which comprise of more than 35 chapters nationwide with close to 5,000 members and is the parent organization of CAC of Boston. The purpose of CACI is to host the annual national convention, encourage communication among local clubs, and represent the interests of single Catholics at a national level. For other areas of the U.S., see the CACI Home Page for the list of local clubs.
---
For More Information About CAC
For more information about CAC write to the following address:

Club Information Chairperson
Catholic Alumni Club of Boston
P.O. BOX 101 Concord, MA 01742

or send an e-mail message:

cacofboston@verizon.net
---
This web page was last updated on November 29, 2018.